Skip to Main Content
It looks like you're using Internet Explorer 11 or older. This website works best with modern browsers such as the latest versions of Chrome, Firefox, Safari, and Edge. If you continue with this browser, you may see unexpected results.
Before You Go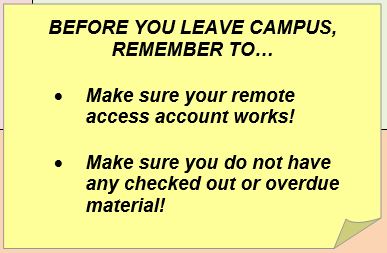 As you complete your pre-travel checklist with your Study Abroad department (see University Links on the left), there are two things you can do to make sure you maintain your Woodruff Library access while you are away.
Make sure your remote access account works! This is what will allow you to access Woodruff Library materials while you are away. Learn more about remote access here.
Make sure you don't have any checked out or overdue material. You do not want to come back from your travels to a ton of fines! You can log into your patron account here. Or, you can call the circulation desk at 404-978-2097.
Librarian
Jordan Moore